Jessica Gerschultz
---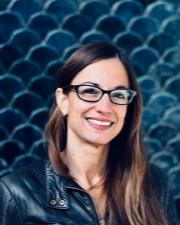 Associate Professor of African and African-American Studies
Director of Graduate Studies
Biography
—
Jessica Gerschultz is an Associate Professor and Graduate Studies Director in the Department of African and African-American Studies at the University of Kansas and a 2018 Hans-Robert Roemer Fellow at the Orient-Institut Beirut. She received her PhD in Art History from Emory University in 2012. Professor Gerschultz's research and teaching interests span modern and contemporary art in Africa and the Arab world, gender and materiality, and feminist art history and methodologies. Her current work centers on transregional articulations of modernism with an emphasis on tapestry and fiber art. 
Professor Gerschultz was an American Council of Learned Societies Fellow in 2016 for the writing of her first book Decorative Arts of the Tunisian École: Fabrications of Modernism, Gender, and Power forthcoming with the Pennsylvania State University Press in the series "Refiguring Modernism" (2019). Her second book, tentatively titled Fiber Art Constellations, will present a critical, transregional, and feminist history of modernist tapestry. Professor Gerschultz has published articles and chapters in Beiruter Texte und Studien (forthcoming 2018), ARTMargins (2016), The International Journal of Islamic Architecture (2015), Critical Interventions: Journal of African Art History and Visual Culture (2014), and African Art and Agency in the Workshop (2013); she was also a subject advisor for the anthology Modern Art in the Arab World: Primary Documents (2018) and has published essays in exhibition catalogues. In 2017 she co-curated the exhibition "Race, Gender, and the 'Decorative' in 20th Century African Art: Reimagining Boundaries" at the Spencer Museum of Art. She has held fellowships and awards from the American Philosophical Society, the Max Weber Foundation, the Forum Transregionale Studien, the American Association of University Women, the U.S. Fulbright Council, and the American Institute for Maghrib Studies.
Professor Gerschultz has served on the board of AMCA, the Association for Modern and Contemporary Art of the Arab World, Iran, and Turkey, since 2015. In 2016 she co-organized the fourth AMCA conference Abstraction Unframed at NYU Abu Dhabi, Barjeel Art Foundation, and Sharjah Art Museum. She is a contributor to the retrospective exhibition Gorgi pluriel (Musée de la ville de Tunis, Palais Kheireddine, December 2018). In addition, she has given numerous presentations, most recently at the Victoria and Albert Museum in London and the Sursock Museum and Beit El Tawlet in Beirut.