James Yékú
---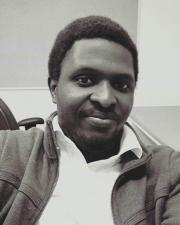 Assistant Professor of African and African-American Studies
Biography
—
James Yékú received his PhD in English from the University of Saskatchewan in 2018, joining the University of Kansas a year later as an assistant professor of African digital humanities in the Department of African and African American Studies and the Institute for Digital Research in the Humanities. James studies the digital expressions of the literatures and cultures of Africa and the African diaspora and focuses on the African articulations of the digital cultural record.  
His interdisciplinary research explores areas such as cultural studies, social media in Africa, as well as online visual culture in Nigeria. James's journal article "Akpos Don Come Again: Nigerian Cyberpop Hero as Trickster" won the 2017 Abioseh Porter Best Essay Award of the African Literature Association. In addition to several book chapters, James has published his work in the Journal of African Cultural Studies, Research in African Literatures, and Digital Scholarship in the Humanities. James is a member of the editorial board of the Journal of African Cultural Studies and was a research assistant for Allison Muri's The Grub Street Project, a digital project that visualizes the literary and cultural history of London. His current project Digital Nollywood is a web-based archive of Nollywood film posters that reconstructs the history of the video film in Nigeria.
James is currently working on a book project on social media and popular culture, a work that highlights how Nigerian netizens perform popular culture on social media as a practice of disrupting hegemonic narratives and state power. Before arriving at KU, James taught English at the University of Ibadan in Nigeria, as well as literature and composition at the University of Saskatchewan in Canada where he was a teacher-doctoral fellow in 2017. Currently at KU, he teaches introductory courses on social media and popular culture as well as on African digital humanities.