Kathryn Rhine
---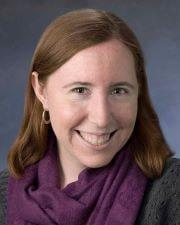 Associate Professor of Geography and African and African-American Studies
Biography
—
Kathryn Rhine joined the Departments of African & African-American Studies and Geography & Atmospheric Science as an Associate Professor in fall 2019. She received her Ph.D. in anthropology from Brown University in 2010, and has lived and worked in Nigeria for nearly four years over the past 15 years. She has written a book titled, The Unseen Things: Women, Secrecy, and HIV in Northern Nigeria (2016, Indiana University Press), which won the 2017 Best Book Award from the Nigerian Studies Association. She is currently developing a new project titled,Bloodless: Innovation and the Production of Surgical Knowledge in Nigeriabased on ethnographic fieldwork in Calabar, Nigeria.
Rhine is the co-director of KU's first humanities-based lab, colLAB: Bridging East Africa's Health Divides, with AAAS faculty members, Elizabeth MacGonagle and Peter Ojiambo. ColLAB provides undergraduates the opportunity for collaborative and mentored research in Tanzania, while developing fluency in Kiswahili. This lab is supported by grants from the National Endowment for the Humanities ($98,000) and the Hall Center for the Humanities ($90,000). Rhine will also co-direct two related initiatives over 2019-2020, including a John E. Sawyer Seminar on the Comparative Study of Cultures, Chronic Conditions: Knowing, Seeing & Healing the Body in Global Africa(with Cassandra Mesick Braun and AAAS faculty member Abel Chikanda), supported by a $225,000 grant from The Andrew W. Mellon Foundation and the 2020 Global Humanities Institute, Chronic Conditions: Childhood and Social Suffering in Global Africa (with Richard Godbeer, PI and partnerships with the Instituto de Humanidades, Artes e Ciências, Professor Milton Santos, Universidade Federal da Bahia, Brazil; the College of Humanities, University of Dar es Salaam, Tanzania; and Institut Fondamental d'Afrique Noire (IFAN), Université Cheikh Anta Diop De Dakar, Senegal), sponsored by a $175,000 award from theConsortium for Humanities Centers & Institutes (CHCI) and the Andrew W. Mellon Foundation.
Rhine has received numerous grants and awards to support her individual research in Nigeria, including three Fulbright fellowships (Fulbright CIES, 2013-2014; Fulbright Hays, 2006-2007; and Fulbright IIE, 2002-2003); the Wenner-Gren Foundation for Anthropological Research, Inc. (2013-2014); the American Philosophical Society (2010); the West African Research Association (2010); the American Council of Learned Societies/Andrew W. Mellon Foundation (2008-2009); and the National Science Foundation (2006-2007), among others.
Education
Ph.D., Anthropology - Brown University, 2010