Shawn Leigh Alexander
---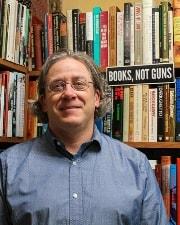 Professor and Chairperson of African and African-American Studies
Director of the Langston Hughes Center
Biography
—
Shawn Leigh Alexander, who received his PhD from the W.E.B. Du Bois Department of Afro-American Studies at the University of Massachusetts-Amherst in 2004, is a Professor and Chair of African and African American Studies, and the director of the Langston Hughes Center at the University of Kansas. His area of research concentration is African American social and intellectual history of the 19th and 20th Centuries.
Professor Alexander is the author of An Army of Lions: The Struggle for Civil Rights before the NAACP (University of Pennsylvania Press, 2012) and W. E. B. Du Bois: An American Intellectual and Activist (Roman and Littlefield, 2015).  He has also edited an anthology of T. Thomas Fortune's writings, T. Thomas Fortune, the Afro-American Agitator (University Press of Florida, 2008), a collection on the racial violence after the civil war, Reconstruction Violence and the Ku Klux Klan Hearings (Bedford/St. Martin's, 2015), a critical edition of W. E. B. Du Bois's The Souls of Black Folk: Essays and Sketches (University of Massachusetts Press, 2018), as well as an introduction to William Sinclair's classic 1905 study, The Aftermath of Slavery: A Study of the Condition and Environment of the American Negro (University of South Carolina Press, 2012). Additionally, he has authored many scholarly articles and book chapters on early African American civil rights activity and black intellectual history.  Currently he is working on a history of the NAACP in the 1930s.
Prior to joining the University of Kansas, Professor Alexander taught at the University of Massachusetts, Amherst College, Gettysburg College, and Yale University, where he was the first Cassius Marcellus Clay Fellow (2005-2007) in the Department of History.
Follow him on Twitter: @S_L_Alexander