Beverly Mack
---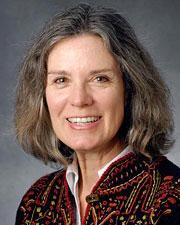 Professor Emerita of African Studies in the Department of African and African American Studies
Biography
—
Beverly Mack is a Professor Emerita of African Studies in the Department of African and African American Studies. She regularly taught the following courses:  Women and Islam, Muslim Women's Autobiography, African Women Writers, and  Islamic (Sufi) Literature.  Prior to joining KU, Professor Mack taught at Yale University (Hausa language and African Literature), Georgetown University (African History), and George Mason University (African Literature).
Professor Mack's national awards for individual research include fellowships from the Carnegie Corporation,  Fulbright-Hays, the Woodrow Wilson Foundation, the AAUW Foundation, five grants from the National Endowment for the Humanities, and two NDEA title VI awards for language and cultural study (Hausa).  She wrote, won, and directed a USDE Title VI International Studies award for the enhancement of Islamic Studies and African languages at the University of Kansas, a Ford Foundation grant for the education of women agricultural extension agents in Nigeria, and a Fulbright Hays Group Project award for intensive summer language study in Nigeria (Hausa). She also received the national African Studies Association's Text and Translation Book Award for The Collected Works of Nana Asma'u (1793-1864).
At the University of  Kansas Professor Mack has received multiple awards, including:  the inaugural Hall Center Scholars on Site award for collaborative research, the inaugural Sharon and Jeffrey Vitter Award for Engaged Scholarship, the Mortar Board Outstanding Educator Award, the Vice Chancellor's Book Subvention Award, the Graduate School book subvention award, and multiple awards from the Graduate Research Fund.