Beverly Mack
---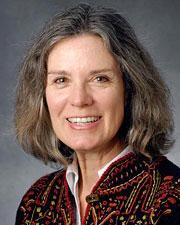 Professor Emerita of African Studies in the Department of African and African American Studies
Biography
—
Beverly Mack (Ph.D. University of Wisconsin-Madison) is a Professor Emerita of African Studies in the Department of African and African-American Studies, 1993-2017.  Prior to joining KU, she taught at Yale University (Hausa language and African literature), Georgetown University (African history), and George Mason University (African literature).  She is the author of: Equals in Learning and Piety:  Muslim Women Scholars in Nigeria and North America (University of Wisconsin Press, 2023) and Muslim Women Sing: Hausa Popular Song (Indiana University Press, 2004), and the co-author with Jean Boyd of: Educating Muslim Women: The West African Legacy of Nana Asma'u, (Interface Press, 2013), One Woman's Jihad: Nana Asma'u, Scholar and Scribe (Indiana University Press, 2000),  and The Collected Works of Nana Asma'u, Daughter of Usman 'dan Fodiyo 1793-1864 (Michigan State University Press, 1997).  She also edited with Catherine Coles Hausa Women in the Twentieth Century (University of Wisconsin Press, 1991).
Professor Mack's national awards include individual research fellowships from: the Carnegie Corporation, Fulbright-Hays, AAUW, Institute for Citizens and Scholars (formerly the Woodrow Wilson National Fellowship Foundation) and two NDEA Title VI awards for language and cultural study (Hausa).  She received awards for her institutional projects from:  the USDE Title VI International Studies Program (Islamic Studies and African Languages), the Ford Foundation (women's education in Nigeria), a Fulbright-Hays Group Project (summer Hausa language study in Nigeria).  The Collected Works of Nana Asma'u, Daughter of Usman 'dan Fodiyo 1793-1864 received the African Studies Association Text and Translation Book Award.
At the University of Kansas, Professor Mack has received multiple awards, including: the inaugural Hall Center Scholars on Site award for collaborative research, the inaugural Sharon and Jeffrey Vitter Award for Engaged Scholarship, the Mortar Board Outstanding Educator Award, the Vice Chancellor's Book Subvention Award, the Graduate School Book Subvention award, and multiple awards from the Graduate Research Fund.
During her tenure at KU Professor Mack established and regularly taught the following courses:  Women and Islam, Muslim Women's Autobiography, African Women Writers, and Islamic (Sufi) Literature.